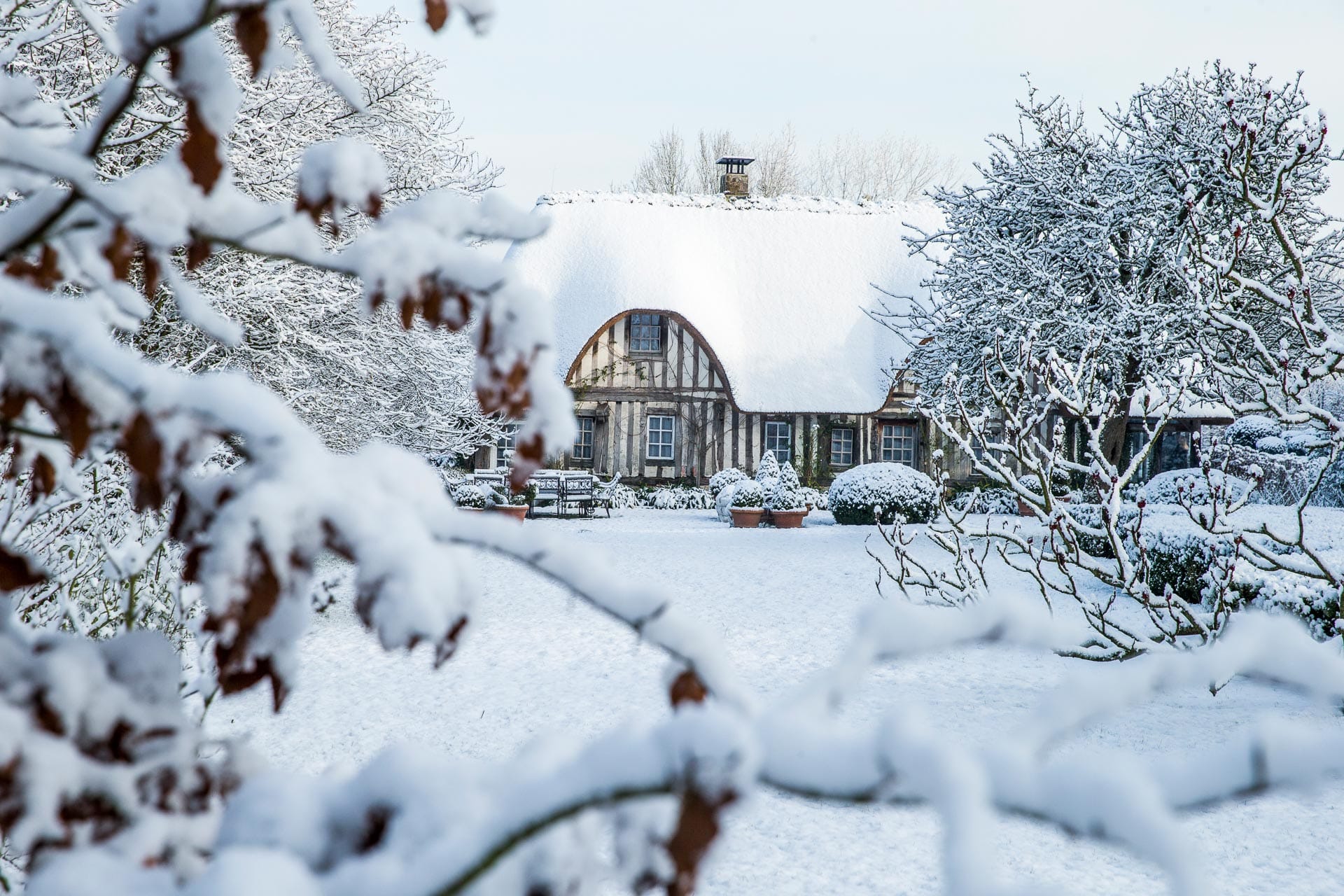 Although Normandy, which is close to Paris, is a popular destination during the summer, visiting it in the winter has many advantages. In addition to avoiding the tourist crowds, you can enjoy stunning scenery and a quieter atmosphere.
During the winter months, Normandy's coastal towns are especially charming, with their picturesque harbors and historic buildings. Additionally, many cities organize Christmas markets and light festivals that add a magical touch to the region.
If you are a foodie, winter is the perfect time to try traditional dishes such as Norman stew or famous local cheeses accompanied by cider.
Mont Saint Michel in winter : away from the crowd
If you're wondering whether it's worth visiting Mont Saint Michel in winter, the answer is definitely: Oui!
Starting with the impressive statistic that says that tourists are 25% fewer in winter compared to summer. This is certainly "the" argument for many visitors who wait for this time of year to finally be able to appreciate the majestic Mont Saint Michel.
The Mont Saint-Michel Abbey remains the most visited national monument in France.
Many of its visitors plan their trip between the months of April and October, considered medium frequency months, and July and August, the high season.
Leaving considerable rest in the other months, to the delight of those who plan to include the Mont in their itinerary during the low season and enjoy the calm and tranquility of the village.
Legends and Mysteries of Mont Saint Michel
The rich history of Mont Saint-Michel is full of legends and mysteries.
One of the most intriguing is the legend of the Archangel Michael, who, according to tradition, appeared to a bishop of Avranches, a city located very close to Mont, in a dream and instructed him to build a church on top of the rock.
Another story tells that the archangel pushed the devil off the top of the tower, creating the great crack that can be seen today.
On a quiet winter night, it's easy to imagine these legends coming to life, as the wind whispers through the ancient walls and the moon's reflections dance on the surrounding waters.
The Port of Honfleur: Calm and winter tranquility
Honfleur was once an important seaport, serving goods as far as the other side of the English Channel in England.
Today, Honfleur has become a city of undeniable charm with its fishing port where many sailboats are moored. It is the only Norman city that was not damaged during the war. For photography lovers, winter in Honfleur offers unique opportunities.
The soft, golden light of the setting sun reflects off the calm waters, creating a spectacle of color and shadow that is a delight for any camera.
The seaside cafes and restaurants offer refuge and comfort. Here, you can taste the rich flavors of Norman cuisine. The smell of delicious cuisine wafts through the streets, inviting passersby to indulge in local delicacies.
Deauville's Seasonal Elegance in Winter
While Deauville is widely known for its lively beaches and effervescent atmosphere during the warmer months, winter offers a completely different perspective on this French coastal city. It is in this season of tranquility that Deauville reveals its discreet elegance and a serene beauty that captivates visitors.
The beaches, normally adorned with colorful umbrellas and sunbathers, take on an aura of calm melancholy in winter. The wide expanses of golden sand invite silent contemplation and long invigorating walks, a favorite with local French people and many who come from surrounding cities to enjoy the calm of Deauville.
Casino Barrière, an icon of glamor and entertainment, takes on a more intimate atmosphere in winter. Its twinkling lights and sumptuous decorations create a welcoming atmosphere where visitors can enjoy an evening of entertainment and fun without the usual crowds.
The charming boutiques along Rue Eugène Colas reveal treasures of fashion and luxury goods, giving visitors the opportunity to explore the world of haute couture in peace. The elegance and style that characterize Deauville are evident in each window, inviting fashion lovers to lose themselves in a universe of beauty and sophistication.
How to dress to enjoy walks in the French countryside during winter
Layers
Use layers when dressing for days out, this is the golden rule. Start with a thermal base layer to retain body heat. Opt for fabrics like merino wool or moisture-wicking technical fabrics.
Then add an insulating layer, like a wool sweater or quilted vest.
Wind and Water Resistant Jackets
Normandy can be quite windy and wet in winter, so it is essential to invest in a good quality coat that is wind and water resistant.
A fleece jacket with a windproof lining or a waterproof jacket are excellent options for staying dry and warm.
Essential Accessories
Don't underestimate the power of accessories to stay warm. A wool scarf, a pair of insulated gloves and a hat can make all the difference. Make sure these accessories are made of warm, cold-resistant materials.
Suitable Shoes
Choose comfortable, waterproof and insulated shoes.
Hiking boots or winter boots are ideal for keeping your feet dry and warm, especially if you plan to explore outdoor areas or go hiking.
Thermal and Wind Resistant Pants
For your lower body, opt for thermal pants or lined pants that provide additional insulation.
Windproof pants are also an excellent choice to protect your legs from the cold.
Quality Socks
Don't underestimate the importance of warm, comfortable socks. Choose wool or technical socks that keep your feet dry and well insulated.
Winter in Normandy is cold, but not freezing.
From December to February, the average daytime temperature is 6°C. It's impossible to say what the weather will be like: there could be a big blue sky, or fog, or rain, probably wind and sometimes even snow (but that's not often).
It's really difficult to predict.
On the other hand, being winter means the days are shorter.
Sunrise and sunset leave you with a little less time during the day to explore. But it also means you have more time to explore at night, and you're sure to marvel at the lighting and atmosphere.
So, consider visiting Normandy in winter and discover everything this region has to offer.